Japón
[Tokio] Nuestro Centro de Tokio inauguró el restaurante vegetariano (vegano) Loving Hut, de comida rápida, en Yotsuya Sanchome, en el centro de la ciudad de Tokio.

[Tokyo] "Los Perros de Mi Vida" debuta en la Feria Internacional del Libro de Tokio 2008

---
"Loving Hut" Promueve la Dieta Vegetariana en Tokio
Por el Grupo de Noticias de Tokio (Originalmente en japonés)
[Tokyo] In order to further promote the vegetarian diet and environmental protection, and to make it easier for people to access vegetarian food, our Tokyo Center opened the Loving Hut vegetarian (vegan) fast-food restaurant in Yotsuya Sanchome in downtown Tokyo. Thanks to Master's blessings, everything went smoothly in the course of securing a suitable location and raising capital funding. Fellow initiates with highly professional skills, designed and renovated the interior of the restaurant, creating a bright, neat and tidy atmosphere, with a sweet, warm touch. On stepping into the restaurant, the first thing that meets the eye is a wall-mounted television broadcasting Supreme Master Television.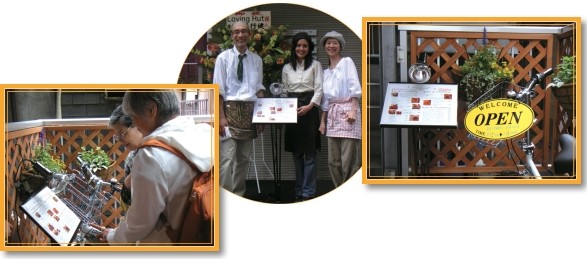 Loving Hut officially opened on June 28. In just a few days, the staff received positive and encouraging responses from the customers. A lady said, "After enjoying the meal, I felt my heart fill with peace and harmony. If people could enjoy such meals every day, they would definitely become very peaceful and calm. We should let more people know about this restaurant!" We are very grateful for Master's guidance. The working staff of Loving Hut will serve each customer with love.
Para más información del Loving Hut recientemente inaugurado, por favor visite: http://www.lovinghut.com/
Los Perros de Mi Vida Debut en la Feria Internacional del Libro en Tokio 2008
Por el Grupo de Noticias de Tokio (Originalmente en japonés)
[Tokyo] La edición japonesa de Los Perros de Mi Vida , escrita por la Maestra Suprema Ching Hai, fue recientemente publicada en numerosas librerías japonesas de importancia. Los Perros de Mi Vida - Parte 1, alcanzó el primer lugar en la clasificación de ventas de la semana del 7 de julio, en la librería más grande de Tokio, Kinokuniya Shinjuku, sucursal sur. ¡Además de esto, Los Perros de Mi Vida - Parte 2, alcanzó el segundo lugar para la semana del 14 de julio!
To commemorate the release of the book, the initiates from the Tokyo Center participated in the 15th annual Tokyo International Book Fair held at the Big Site (the Tokyo International Exhibition Center) from July 10 to 13, Golden Year 5 (2008). This event drew large crowds as it was the biggest book fair in Japan, where 770 companies from 30 countries in the world gathered to exhibit their publications. Akishinonomiya, Imperial Prince Fumihito and his wife Princess Kiko attended the opening ceremony.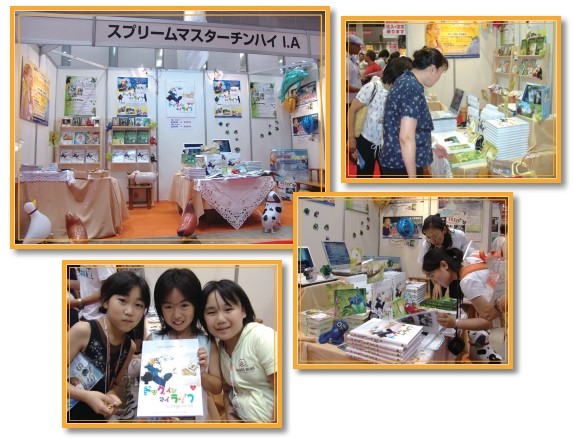 The initiates' booth was decorated with both h The Dogs in My Life and the SOS global warming posters. In addition to a selection of Master's books, also displayed were T-shirts, bookmarkers, memo pads and eco-bags printed with pictures of Master's pets.
Many visitors expressed a sense of happiness and upliftment whenever they browsed through The Dogs in My Life book. It seemed that Master's love flowed to them through the colorful and lively pages. People who love dogs frequented the booth, and bought memo pads and other memorabilia, saying the dog pictures reminded them of their own pets. A lady liked The Noble Wilds so much that she bought it even though it was in English.
At the fair, the Director of Sales for the Japanese major chain bookstore Libro, conveyed his sincerity to carry the book in his bookstores. He said that he would do it "by all means," because it had such a powerful healing effect on people. Other major bookstores such as Sakuma and Maruzen also showed great interest in selling this book. Let's hope that more people will grow in the spirit of love for all of God's creatures through reading Master's books.