Au Lac
[Hanoi] Una Noble Experiencia Vegetariana en el Loving Hut de Hanoi
---
Una Noble Experiencia Vegetariana
at Hanoi's Loving Hut
By Hanoi News Group (Originally in Aulacese)
[Hanoi] Thanks to God's compassionate love and endless efforts by Au Lac fellow initiates, a Loving Hut vegetarian restaurant opened in Hanoi on July 17, Golden Year 5 (2008).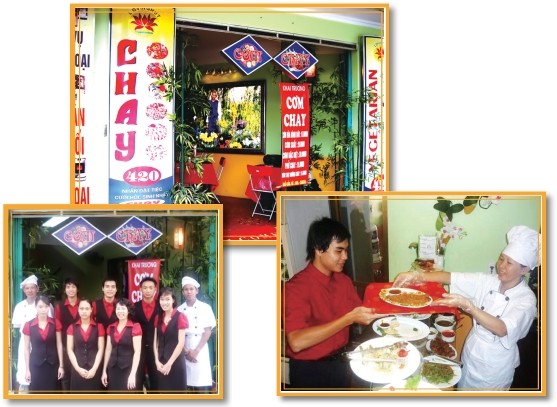 In a tranquil atmosphere pervaded by God's blessing, Loving Hut celebrated its inauguration by serving pure vegetarian dishes and giving its guests a wonderful dining experience that was made all the more special with Supreme Master Ching Hai's photo and Supreme Master Television broadcasts brightening up the venue.

A Hanoi Commerce University student who was invited to the opening ceremony, expressed his delight at eating at Loving Hut during an interview by Supreme Master TV. A Hanoi businessman agreed that vegetarianism is a noble way of living that contributes tremendously to easing the effects of global warming.

Loving Hut and all Au Lac initiates would like to express their boundless gratitude to Master for Her blessings. They promise to do their best to introduce this noble lifestyle to all their fellow citizens.

Para más información acerca del recientemente inaugurado Loving Hut, sírvase visitar: http://www.lovinghut.com/