Indonesia
[Yogyakarta] ¡El Gobierno de la Ciudad de Magelang Lidera el Cambio Hacia el Vegetarianismo!
---
Magelang City Government Leads the Change
to Vegetarianism!
By Yogyakarta News Group (Originally in Indonesian)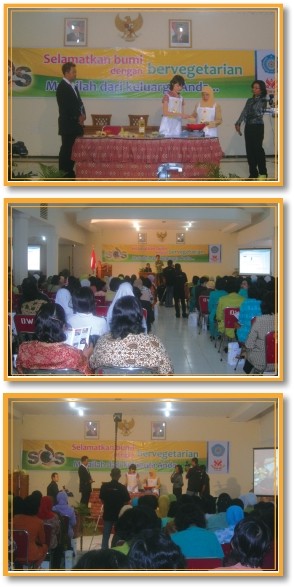 [Yogyakarta] Following the successful seminar inaugurated by the vice major of Magelang in May, Golden Year 5 (2008), the Yogyakarta Center once again was invited to hold a SOS global warming seminar and a vegetarian cooking show by Mrs. Tarni Fahriyanto, the mayor's wife and the leader of PKK, a family welfare movement organization.
Magelang city's first lady invited 300 enthusiastic guests to this insightful event that took place on August 3. During the seminar, the initiates showed a film on animal cruelty and the SOS video prepared by Supreme Master Television. AL flyers, SOS T-shirts and a delicious vegetarian meal were graciously accepted and enjoyed by all. The seminar venue was alive with proud clapping from all participants when they were informed that the Magelang city government was the first administration in Indonesia to actively campaign against global warming and provide its most effective and immediate solution - vegetarianism. At the end of the seminar, many guests shook the speakers' hands to convey their gratefulness for being given this important global warming news. And to conclude this wonderful event, Magelang's first lady called upon all participants to go vegetarian from that day onward to save our planet.

Los iniciados de Yogyakarta están realmente agradecidos a nuestra amada Maestra, quien los ha honrado con esta maravillosa oportunidad de transmitir el importante mensaje de que el vegetarianismo puede detener el calentamiento global. Su deseo es que más personas en Indonesia pronto sean concienciadas acerca de la urgencia del calentamiento global y sus soluciones, y tomen medidas urgentes para salvar a nuestro magnífico planeta.