Suiza
[Ginebra] Del 1 al 3 de agosto, Año Dorado 5 (2008), El Centro de Ginebra participó en el Festival de Arte y Música en Leysin, Suiza.
---
Promoviendo Ideas "Grandiosas" a Través de Eventos "Pequeños"
Por el Grupo de Noticias de Ginebra (Originalmente en inglés)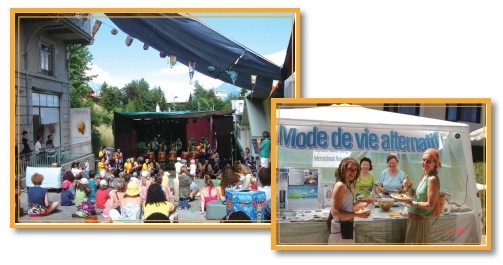 [Ginebra] From August 1-3, Golden Year 5 (2008), the Geneva Center participated in an Art and Music Festival in Leysin, a mountain holiday resort in the French part of Switzerland. It was the first time the local initiates sold vegetarian food at such an event, and they learned a lot from this experience.
The food they provided included different salads, cold vegetarian meats, hot vegetables and tofu dishes with wholemeal rice or quinoa, a cereal that is very rich in protein and minerals. One of the sisters baked some delicious vegan cakes that sold very well. Their food received many compliments. People said they felt very good after eating at their stall. One couple came back the next day and told the initiates that their food was the best and that their stall was bathed in light. The initiates also distributed SOS, Supreme Master TV and AL flyers. Many of the visitors were interested in the SOS poster and read it carefully. Generally, the public wanted to know more about vegetarianism, with some young people saying that they would consider eating less meat, while others bought the packets of gluten-based meat replacements.
La Asociación Vegetariana Suiza tenía un puesto al lado del de los iniciados y estaban muy activos promocionando el vegetarianismo. En resumen, fue una experiencia edificante. Aunque el Centro de Ginebra es pequeño, manejaron este evento con éxito con la bendición de la Maestra. Ellos quisieran animar a todos los Centros a comenzar a vender alimentos vegetarianos en festivales de música, exhibiciones o cualquier otro evento en sus ciudades, pueblos o poblados, ya que es una forma muy buena de mostrarle a la gente cuán delicioso puede ser este estilo de comida compasivo que salvaguarda la Tierra.