Singapur
El Festival Multi Racial de Dumpling del 28 de junio del Año Dorado 5 (2008), organizado por el Club de la Comunidad de Serangoon, fue un evento pleno de alegría donde los miembros de nuestra Asociación difundieron el mensaje acerca de la situación de emergencia del cambio climático.

---
Promoviendo una Mayor Conciencia
del Calentamiento Global
Por el Grupo de Noticias de Singapur (Originalmente en inglés)
(Singapur) El Festival Multi Racial de Dumpling del 28 de junio del Año Dorado 5 (2008), organizado por el Club de la Comunidad de Serangoon, fue un evento pleno de alegría donde los miembros de nuestra Asociación difundieron el mensaje acerca de la situación de emergencia del cambio climático.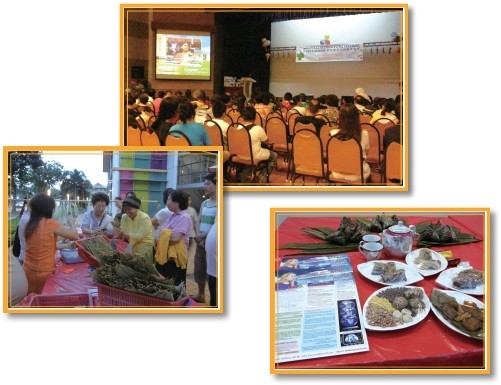 Many festival guests went home wiser, knowing that a plant-based diet could reverse global warming and save our beautiful planet. They had gained this welcomed knowledge from a Supreme Master Television video on climate change, featuring well-known personalities such as Dr. Rajendra Pachauri, Chief of the UN's Intergovernmental Panel on Climate Change (IPCC), former US Vice President Al Gore and Prince Charles. Many other environmentalists and political leaders appearing in the video also promoted their views on the urgency and means of combating the global warming crisis.
The SOS climate change flyers in English and Chinese that were distributed, were well received by the residents of Serangoon. Much impressed, the Merchant Alliance Association of the Serangoon Neighborhood Shops requested a copy of the video for playing as well as flyers for distribution at an event on global warming to be held the following day. The Guest of Honor was Mrs. Lim Hwee Hua, Senior Minister of State for the Ministry of Finance and Ministry of Transport.
As "dumplings" was the theme of the festival, our Association members had great fun demonstrating how to make the sumptuous vegetarian version, exhibiting the ingredients used. The Muslim and Indian residents were particularly interested and watched with great enthusiasm.
May many more people become aware of the urgency of climate change and adopt the quickest and most effective way to stop it – the plant-based diet.

Para ver el vídeo presentando los discursos de personalidades famosas acerca de la urgencia del cambio climático, sírvase visitar:http://video.godsdirectcontact.net/veg/video/ClimateChange.php